Thursday, September 23, 2010 at 10:16PM
A few weeks ago I headed out one extremely rainy September morning to conduct site visits for several of our 2009-2010 Grassroots Grant projects. My route took me close to a few past projects and some new areas, so I stopped in on them as well. It was wonderful to see the current projects and talk with the local champions who did the heavy lifting - it's always inspiring! But, after 14 hours and 593 miles (round-trip!), I was happy to be home again.
Manfred, ND
If you've never been to the small town of Manfred, ND, you should really make it a point to go. It's located along ND Highway 52 between Fessenden and Harvey. When you first pull in, head to what's known locally as the Melby-Rogness House, which is the headquarters of Manfred's museum complex. Several nonprofits have incorporated under PND's Local Affiliate Program to save various architectural gems and dedicate them into the museum complex. It truly is an authentic settler's village.
Rural Vestige Alliance, one of Manfred's four nonprofits, received a $2500 2009 Prairie Places Grassroots Grant from PND to assist with roof repair and new shingles for the Manfred School and Solheim House.
Manfred School
Solheim House
Melby Heritage Alliance, another member of PND's Local Affiliate Program, is currently working on the preservation of Hotel Johnson in Manfred. The hotel was built in 1906 and originally had a two-level board walk running the length of the building. Over time, the building has settled, so installing a more modest one-level boardwalk was the only feasible way to reconstruct this important element of the hotel. Accessibility was also taken into consideration, so a ramp was included on the south end of the boardwalk. Eventually, the hotel's windows will be restored and the first floor windows will feature shadow boxes with interpretive displays.
Hotel Johnson's boardwalk - Manfred
Hotel Johnson - Manfred
While in Manfred, I learned that both grain elevators in town are currently threatened. The eastern most elevator is slated for demolition this fall. The western elevator is for sale, and while everyone is hoping for the best, it too will likely be lost in the near future. Manfred's landscape will be forever changed.
East Elevator - Manfred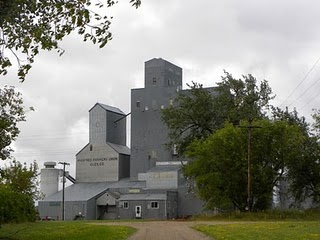 West Elevator - Manfred
Egeland, ND
Egeland is a small town in Towner County. Egeland Presbyterian Church closed in 2006 and is now home to the Towner County Historical Society. The church is often used for weddings, special services, and community events, as well as housing TCHS's collections. The steeple received repair and new shingles assisted by a $2,000 Prairie Churches Grassroots Grant from Preservation North Dakota.
For Fun...
Here's some photos I took along the way.
Gazebo - Wells County Fair Grounds

The Wells County Fair Grounds was built as a WPA project and is listed on the National Register. The fair board is planning to preserve the gazebo.
Viking Lutheran Church - rural Maddock, ND
Viking Lutheran Church received a $3000 Prairie Churches Grassroots Grant from PND in 2004 to assist with repair & repainting, including the steeple. Viking Lutheran is one of the most elaborate wood frame churches in the state.

North Trinity Lutheran Church - near Nash, ND
North Trinity was built in 1893 and is listed on the National Register. In 2006, they received a $7,000 Prairie Churches Grant from Preservation North Dakota to assist with steeple repair, repainting, and new shingles. The church is best known for a long-standing Christmas Eve tradition of rining the bells; parishoners call family members who have moved away on their cell phones so they can hear the bells tolling.




West Side Drive In - Grafton
Once popular, drive ins are quickly disappearing from our cities and towns. More research is needed, but I thought this Grafton drive in was charming!
Twin Strand Theatre - Grafton
This was my first trip through Grafton, and I was truly impressed with the town. Movie theatres have been the topic of much discussion lately, and so I've added this one to our photo collection.